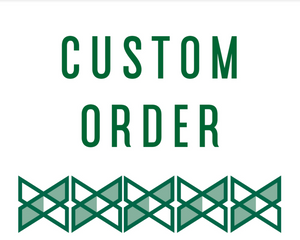 Custom Address Sign for Maria
Green Street Mosaics
Regular price $ 240.00 Sale
Custom Address Sign for Maria
Digits: 2722
Style: Black Metal Numbers
Orientation: Horizontal
Size: 8 x 20"

Border: 12 Ash Gray Glass
Background: 1, Celadon, 7, Barely Gray Glass, 4, White, 8, Cinderblock going heavy on #1 Celadon

Paint for sides and back: Black

Grout: White

Hanging hardware: Choose from dropdown. 
Hanging = 2 D rings. The signs are meant to hang. 
Permanent = I will drill holes in the sign and include masonry screws. This is to permanently affix to the side of your home. 

Shipping: No later than 3 weeks from when you order. 

Thank you for your order. 
Lauren