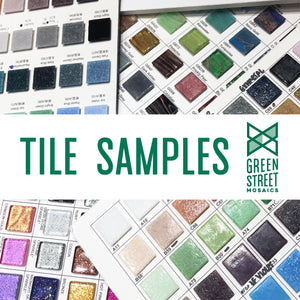 Sample Set
Green Street Mosaics
Regular price $ 0.00 Sale
Samples are sent at no cost and there is no commitment to order. 
Tile samples are strongly recommended since computer monitors vary and glass colors and tile textures can appear very different depending on the light where your mosaic will hang. 
Please be AS SPECIFIC AS POSSIBLE when requesting samples.
To order:
1) Choose whether you are requesting samples for a mirror an address sign
2) Copy + paste the link to the mirror / address sign you are requesting samples for
3) If you would like samples of a general color scheme please be specific (example light blues, whites, and dark teals)
4) If you are interested in a mixed media mosaic mirror, please let me know whether you are interested in copper or silver pieces
5) Feel free to send photos of your space, paint colors, or any other decor you are trying to match (example Sherwin Williams Peacock Blue paint with brushed nickel finishes and white granite countertop) to info@GreenStreetMosaics.com.

Here to answer any questions you might have and I look forward to working with you. 

Lauren / Green Street Mosaics
St. Petersburg, FL