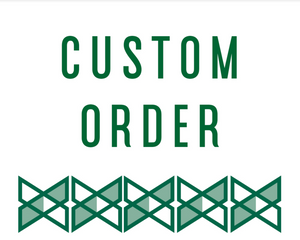 Custom Mirror for Justus
Green Street Mosaics
Regular price $ 375.00 Sale
Shape: Oval
Size; 18 x 24" overall, 12 x 18" inside mirror, 3" mosaic frame
Pattern: Random with inner border of: 
Silver Daisy, Silver Swirl, Silver Daisy, Copper Daisy, Copper Swirl, Copper Daisy, Silver Daisy Silver Swirl, Silver Daisy, ETC. 
Glass Colors: (9 total)
Barely Blue
Silk
Cobalt
Marine Blue Vitreous
Metallic Cadet Blue
Gray 
Fog
Smoke
Metallic White Pearl
Grout: 
Gray
Paint for sides and back: 
Software Sherwin Williams (Gray)
Hanging Hardware: 
2 D Rings with Picture Wire 


Hanging Orientation: 
Choose from Dropdown
Shipping: 
No later than 4 weeks from when you place your order. Shipping via UPS, fully insured. You will be sent the tracking number. 
Thank you for your order.