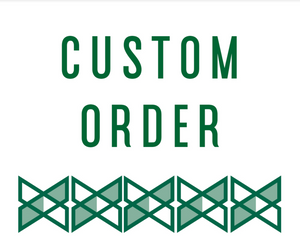 Custom Mirror for Ruth: Round 18"
Green Street Mosaics
Regular price $ 270.00 Sale
Custom Mirror for Ruth

Please verify that all information below is accurate. If anything needs to be changed, please email me at Info@GreenStreetMosaics.com and I'll update the listing before you purchase. 
Shape:
Round
Size:
18" overall, 12" inside mirror, 3" mosaic frame
Colors: 
Tiger's Eye
Taupe
Boho Red
Jade
Metallic Basil
Black
Inner Border: 
None
Grout: 
Black
Paint for Sides and Back: 
Black 
Hanging Hardware: 
2 D rings with Picture Wire
Lead Time: 
4 weeks from when order is placed 
Shipping: 
USPS Priority Mail or UPS Ground. Tracking # will be provided. 
Thanks for your order, Ruth