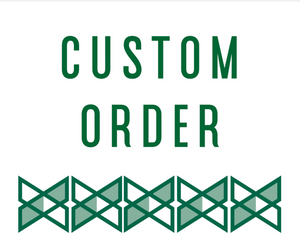 Custom Mirrors for Barbara
Green Street Mosaics
Regular price $ 1,268.00 Sale
MIRROR ONE: 
Shape: Rectangle
Size: 30 x 36" overall, 24 x 30" inside mirror, 3" mosaic frame

Colors:  (10 total)
1. Aztec Yellow
2. Golden Eco
3. Thunder Gray
4. Granite Gray
5. Basalt Vitreous
6. Pearl Vitreous
7. Aqua Glass
8. Metallic White Pearl 
9. Robin's Egg
10. Cinder Special
The inner border Aztec Yellow 3/8"
Grout: White
Paint for sides and back: To match the Aztec Yellow.
Hanging Hardware: French cleat system
Hanging Orientation: Horizontal 


MIRROR TWO: 
Shape: Oval
Size: 24 x 30" overall, 18 x 24" inside mirror, 3" mosaic frame

Colors: (15 total)
1. Spa Illuminations
2. Metallic Tiffany
4. Robin's Egg Glass
5. Mallard Glass
6. Limelight Glass
7. Metallic Aquarium
8. Caribbean Iridescent
9. Sunshine Glass
10. Margarita Glass
11. Chartreuse Vitreous
12. Dragonfly Teal Vitreous
13. Metallic White Pearl 
15. Pearl Vitreous
16. China White Vitreous
18. Aqua Ice Glass


IF YOU WOULD LIKE AN INNER BORDER, PLEASE LET ME KNOW WHAT COLOR YOU WOULD LIKE.  

Grout: White
Paint for Sides and back: Light Aqua

Hanging Hardware: 2 D rings with picture Wire
Hanging Orientation: Vertical (Please confirm) 
Price reflects a 10% discount on second mirror. 

Turnaround time is 4 weeks. 

When your mirrors are ready, I will contact you to determine whether you would like them shipped or you would like to pick them up. 
Thanks for your order.