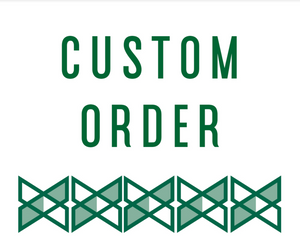 Custom Mosaic Mirror For Lynn (Oval, 18 x 24" Overall)
Green Street Mosaics
Regular price $ 375.00 Sale
CUSTOM MOSAIC MIRROR FOR Lynn D. 
SHAPE: Oval
ORIENTATION: Vertical (please confirm)
SIZE: 18 x 24" overall, 12 x 18" inside mirror, 3" mosaic frame
COLORS (#s correspond to samples sent)
1. White Glass
2. Metallic White Pearl
3. Metallic Silver
4. Pearl Vitreous
5. China White Vitreous
6. White Iridescent
7. Ash Gray Glass
8. Barely Gray Glass
10. Gray Glass
12. Basalt Vitreous
13. Celadon Glass
14. Metallic Pale Green**
15. Ice Green Vitreous
17. Jade Glass
**Inner border Metallic Pale Green
STYLE: All glass (larger pieces) to mimic 
PAINT FOR SIDES AND BACK -- custom color match (Sherwin Williams). Please let me know ASAP what the color name or number is.
GROUT: Light gray
HANGING HARDWARE: 2 D rings with picture wire

TURNAROUND TIME:  4 weeks
Thanks for your order, Lynn