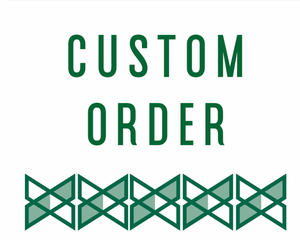 Custom Order for Brooke
Green Street Mosaics
Regular price $ 1,969.00 Sale
Custom Order for Brooke: 
Shape:
Rectangle

Size:
48 x 32" overall, 41 x 25" inside mirror, 3 1/2" mosaic frame

Style: 
Random with inner border


Colors:
#1 Red Glass
#3 Carrot Glass
#9 Red Vitreous
#11 Terra Cotta Vitreous
#14 Royal Glass 
#15 Metallic Imperial Blue 
#16 Violet Glass
#17 Deep Purple Vitreous 
[8 Colors Total, samples sent and chosen in person]
Inner Border: 
Red glass 3/8"
Grout: 
White
Paint for Sides and Back: 
Red 
Hanging Orientation: 
Horizontal (Landscape)
Hanging Hardware: 
French Cleat - all hanging hardware included with easy to follow directions
Turnaround Time:
ASAP, no later than 5 weeks from when order is placed
Shipping: 
USPS - your mirror will be professionally packed and will ship fully insured. Transit time is an estimated 3 days. You will be sent the tracking number when your mirror ships
Thanks so much for your order. 
*Please note that I do not take returns on custom orders, so please verify that all specs above are correct before purchasing. If anything is incorrect let me know and I will update your order. If you want a mockup before placing your order please let me know and I will send you a photo via text or email*